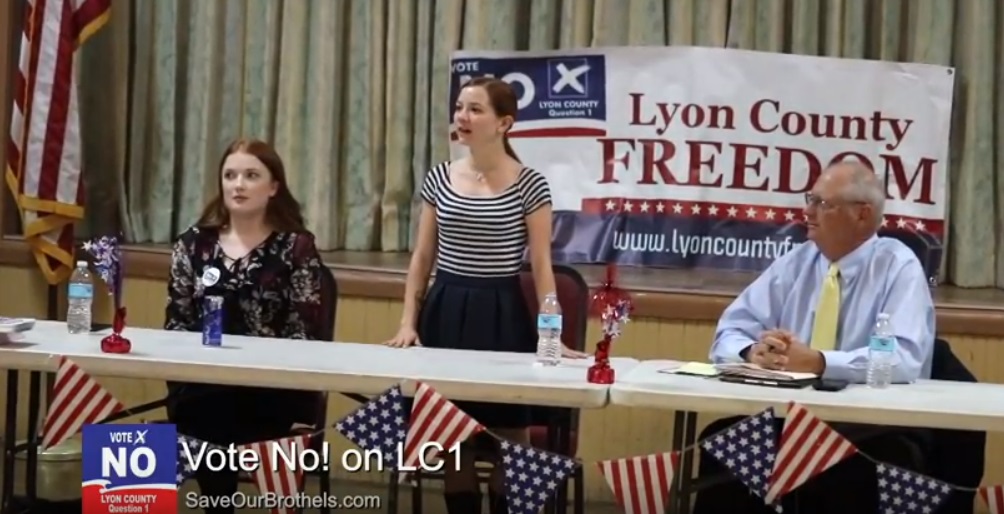 Alice Little and Ruby Rae, legal sex workers at the Moonlite Bunny Ranch, have been participating in a series of educational community town hall meetings in Lyon County to discuss their industry and urge voters to "Vote No on Question 1," a ballot initiative that could shut down the brothels and put them back on the streets.
The two main brothel-bashers, Renoites Jason Guinasso and Melissa Holland, have been invited to attend all four scheduled forums.  They didn't show up in Mound House.  They didn't show up in Yerington.  And they didn't show up again last night at the Fernley Community Center.
So instead, Alice and Ruby have spoken about their work and openly answered questions from attendees.  The dialogues have been mutually respectful and quite educational – for both sides.  Until last night…
For most of the early part of the program, everything went as before.  Good presentations.  Good questions.  Good dialogue.  Mutual courtesy and respect.  Even in disagreement.
And then a man in the audience interrupted the conversation about the charitable work the women and brothels do for the community, stood up, began talking about morality and then said to Alice…
"If you want to be a whore, that's your business."
At which point the $#%& hit the fan.  Watch for yourself (exchange starts around 27:30 mark)…
Here's the thing…
Remember that famous jail scene in "Silence of the Lambs" between Dr. Hannibal Lecter and FBI Agent Clarice Starling?
After Starling broke off the conversation and asked Lecter to look at a questionnaire, Lecter replied: "No, no, no.  You were doing fine.  You had been courteous and receptive to courtesy…"
Until last night we were all doing fine, too.  Everyone – on both sides – had shown courtesy and been showed courtesy.  But when that guy crossed the line by referring to Alice and Ruby as "whores," that was inappropriate and totally uncalled for.
And he reaped the whirlwind known as "Hurricane Alice."
Don't mess with a honey badger!